Xenophobe's Guide to the Swedes - Peter, Berlin
Oval Books (2008)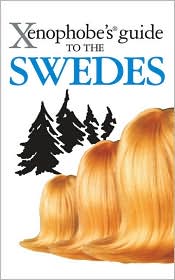 Highlights the unique character and behavior of the nation. Frank, irreverent, funny--almost guaranteed to cure Xenophobia.
More Reviews and Recommendations
Biography
Peter Berlin left his native Sweden the day after graduating from university, and has always looked back since. He maintains that you have to go abroad to view your country in perspective, for how can one size up a whale from within? Of course Sweden is not a whale but a slightly fermented herring, usually delectable but sometimes hard to swallow.

His Canadian wife, a textile artist, has given him a wider focus on Sweden. When there she roams the forests in search of mushrooms for dyeing wool and places each day
s harvest on the hotel room radiator to dry overnight, slowly asphyxiating her husband in the process.

But there is life in the author yet. After 25 years in the satellite and rocket business, he took early retirement to become a full-time writer. Instead, he found himself re-employed to gather intelligence at Siberian and Kazakh space centres previously unknown to the West. He also gives seminars in Cross-Cultural Awareness during which he offers living proof that your cultural luggage stays with you for life.

In conformance with their theory that if you marry a foreigner you should live in a third country (because you both become expatriates with all the attendant joys and sorrows), the Berlins have lived in Seattle, The Hague, Paris, Toulouse, Darmstadt, London and Moscow.

Dewey
305.8397
Format
Paperback
Cover Price
$4.99
Nr of Pages
92
Height x Width
180 mm