Imagining the tenth dimension - a new way of thinking about time and space - Rob Bryanton, Rob; Bryanton
Trafford (2006)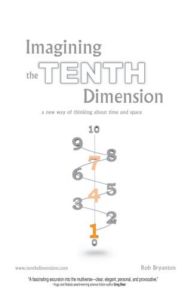 "A fascinating excursion into the multiverse - clear, elegant, personal, provocative. " - (Hugo and Nebula award-winning author Greg Bear. )
Read the book whose companion website (tenthdimension. com) has already achieved worldwide popularity.
More Reviews and Recommendations
Biography

Rob Bryanton made his first record at twelve, and was host of a regional CBC-TV music series at twenty. He is the President of Talking Dog Studios (talkingdogstudios.com) in Regina, Saskatchewan, Canada, which specializes in music and sound for film and television. He has been nominated eight times in the last eight years for Canada's prestigious Gemini Awards, four times in the category "Best Original Music Score for a Dramatic Series", and four times for "Best Sound for a Dramatic Program". Recent projects to which Rob has contributed his talents as a composer and sound mixer include the hugely popular CTV series "Corner Gas", plus the historical mini-series "Prairie Giant: The Tommy Douglas Story" (CBC-TV). Rob is also responsible for the theme and underscoring on CBC's "Canadian Antiques Roadshow".

While Rob has had poems and song lyrics published in several anthologies over the past decade, "Imagining the Tenth Dimension" is his first book. It represents the culmination of a lifelong fascination with science, philosophy, and the nature of reality which, as he tells in the book, began at the age of seven. Rob is also the current President of the Saskatchewan Motion Picture Association, and is an active volunteer in his community. A typical stubborn prairie boy, he is proud to have built a career for himself as a composer and sound mixer in his home town, and to have been a part of Saskatchewan's burgeoning film and television industry for the past 30 years.

Rob lives in Regina with his wife Gail and their dog Buddy. Gail and Rob have two sons, Todd and Mark.
Format
Paperback
Cover Price
$12.48
Nr of Pages
228
Height x Width
220 x 137 mm
Co-published by: Talking Dog Studios