The British Museum A-Z Companion - Marjorie Caygill, Marjorie L. (Marjorie Lancaster), Caygill
British Museum Press (1999)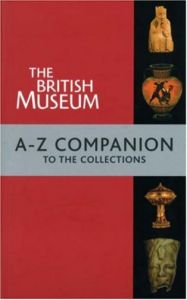 The British Museum A-Z Companion
provides an entertaining and informative introduction to the objects in the collections of the British Museum, from Achaemenid silver to Ziwiye treasure, Alexander the Great to Jean-Antoine Watteau, through Greek vases, Japanese pottery, Nebuchadnezzar, Quezalcoatl, and the Seven Wonders of the Ancient World.
This companion includes more than three hundred entries, with each chosen object or theme fully described and illustrated in colour; most entries also include suggestions for further reading on the subject.
The British Museum A-Z Companion
is also comprehensively indexed and cross-referenced, making it a useful research tool for all those interested in what has often been called "the world's greatest museum of mankind's history".
LoC Classification
AM101.B85C39 1999
Dewey
069.0942142
Format
Paperback
Cover Price
$12.99
Nr of Pages
352
Height x Width
110 x 136 mm
Original Publication Year
1999